すべてはここから始まった……
Micron Technology Creates
Our Macro Society
A chemical compound unique to Earth, calcium carbonate is one of our planet's great gifts to humankind. This safe and easy-to-process mineral resource has vast potential and already finds a tremendous range of uses.
Bihoku Funka Kogyo has long noted the importance of calcium carbonate. Founded in 1942, our company has developed a series of increasingly higher-quality calcium carbonate chemical products.
In recent years, advances in macromolecular chemistry and fine chemicals have spurred demands foe fine, pure, lightweight, high-performance forms of calcium carbonate.
Bihoku is answering these demands by applying our highly developed "submicron" technologies to calcium carbonate production. These efforts are opening the door to an exciting new world of possibilities for this important resource.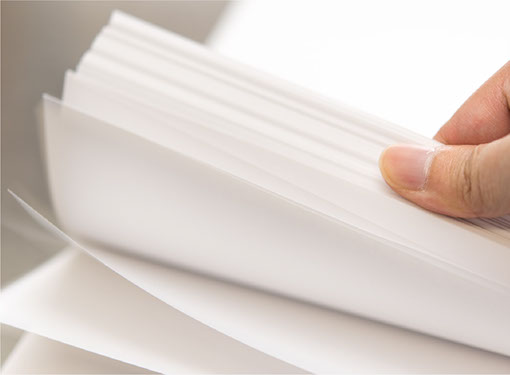 Paper consumption can be seen as a barometer of our civilization's growth. Today, more books, newspapers, magazines, business documents and other printed matter are in circulation than ever before.
Calcium carbonate plays a key role in paper production and printing technologies.
Quick to respond to the needs of the paper and printing industries, Bihoku developed high-quality calcium carbonate pigments that allow brilliant whiteness and the reproduction of delicate colors.
Our unique, fine submicron calcium carbonate is also essential in production of art paper and coated paper. And it plays a key role in the production of special papers and synthetic papers, including thermal transfer paper and electrostatic recording paper that require a high level of smoothness.
Calcium carbonate is also used in solvent paints and water-based paints for buildings and roads, in sealants and caulking compounds for automobiles, and in electric appliances and building materials.
Developments in macromolecular chemistry – such as recent improvements in the quality of rubber, plastics and resins – have given Japan's industries a boost.
Calcium carbonate supplied by Bihoku helps produce rubbers and plastics that enhance quality without affecting the desirable characteristics.
These products find applications in a variety of fields, such as in cables, pipes and electric communications equipment where uniformity, durability and ease of work are required; and in flooring, wall paper and other building materials where outstanding strength and wear resistance are a must.
Also, close attention is now being focused on applying submicron calcium carbonate to resin materials. Possible applications range from disposable diapers and other permeable films to food packaging materials and semiconductors.
Environmental issues have risen to the forefront of the world's consciousness. The industrial Revolution marked the start of environmental pollution on a global scale, and now the destruction is quickly accelerating as the use of fossil fuels increases.
The challenge is clear: How can we protect the earth?
At Bihoku, we believe that a common type of rock – limestone, which mainly consists of calcium carbonate – can help undo the damage caused by fossil fuels.
Our calcium carbonate is already playing a part in environmental protection. For example, calcium carbonate is used in air purification, with its stack gas desulfurization effect; in fertilizers and soil conditioners, where it's used to make acidic soil more alkaline; and as a surface protectant for fruits and vegetables.
Calcium is essential to the human body and plays a key role in growth and maintaining good health. Recently it has drawn attention as a mineral that can help maintain physical functions, such as by strengthening easily fatigued constitutions and enhancing resistance to disease. In addition, calcium carbonate has an antacid effect.
Known for its superior quality, Bihoku's calcium carbonate meets or exceeds all Japanese and United States pharmaceutical and food additive standards.
Our products find a variety of health-related applications. They serve as calcium-enriching agents in fish paste, biscuits and noodles, where they have no effect on natural flavor and coloring; as a polishing agent in toothpaste; and as antacid agents in digestive products and other pharmaceuticals. We also export our high-purity calcium supplements to overseas markets.
Bihoku remains one of the industry's leading suppliers of calcium carbonate.
Protecting the environment
Supporting a healthy diet